Aoimoku Yoshitsune
Biographical Information
Kanji
Rōmaji
Alias
Personal Description
Birthday
october 12
Age
16
Gender
male
Height
159 cm (5'3")
Weight
52 kg
Hair Color
blue
Eye Color
blue
Blood Type
Quirk
clap
Status
Status
alive
Family
Birthplace
Occupation
student , hero
Affiliation
Yuuei
Team(s)
Fighting Style
Base of Operations
Rank
Entrance Exam
Quirk Apprehension
Class' Grades
Portrayal
Debut
chapter 1
Voice Actor

Aoimoku Yoshitsune is a main character student in class 2-B .
Appearance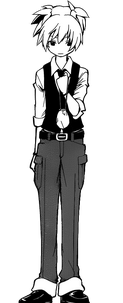 Aoimoku is a slim petite framed boy with light blue hair and azure eyes, he has appearance of a real Japanese person. And often wearing a school uniform with tie.
his hero costume looks similar military uniforms with E above and a lot of pockets and gloves .
Personality
Aoimoku is timid boy introvert most of the time , submissive and loves solitude and has said several times that he's friends and does not need, but hinted he needs praise. However it is not arrogant but innocent.
However, he showed that he has a tendency heroic and also as much as possible and to try and become a real hero.
History
When he was young he went to the concert with his father at the end of the concert he clapping which Paralyzed everyone there for 5 minutes and ended up losing everyone there memory. After that he knew it was no use to be a hero as long as the people will not remember. And claimed he was Quirkless .
However this did not prevent him from using his quirk sometimes .
Plot
Abilities
Natural Abilities
Special techniques
Ways of Combat
Quirk
Other Abilities
Stats
Power

 

2/5 D
Speed

 

2/5 D
Technique

 

4/5 B
Intelligence

 

5/5 A
Cooperativeness

 

6/5 S
Aoimoku's stats, according to the creator.
Battles
Relationships
Trivia
His favorite food is potato .

His hobby is reading .
Peoples calls him Aoi-kun .
His name consists of three parts Ao (ア オ) means Blue that the color of his hair and eyes, imo (芋) means potato his favorite food, ku (区) means guard.
His blood type is O- .
Often who around him get mistaken and think he is Yamaka nagazami brother.